Jon Tremaine
Browse Jon's work available TODAY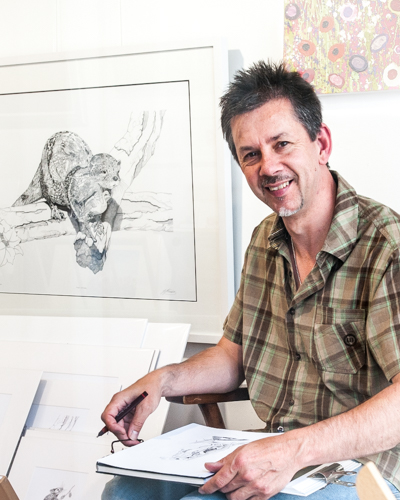 About Jon
Jon Tremaine is a Cornish-born wildlife artist. He has created a riveting and unique style of animal art, creating shading and texture from smaller drawings of other animals within the main drawing. He uses the finest 0.1mm nib that fits in an Isograph indian ink pen, which allows great detail on Bristol card, but is totally unforgiving.
Jon's drawing is mainly self taught. His fundamental approach is extremely analytical, but he says that this is coupled with enormous excitement he feels for the challenges of his unique approach.
His pictures take months to draw. He has picked his first few species for their different appeals – "the otter for its friendly face, the heron for its stealth-like posture and the kingfisher for its royal magnificence."
The limited edition prints are produced using modern Ultrachrome inks on 192gsm card. These high quality fade-resistant reproductions are individually proofed, signed by Jon and copyright protected.
Jon is also happy to answer any questions about his art, and also to undertake commissions - he is local so we can get quick answers!