About Imagianation
St Ives Gallery
65 Fore St, TR26 1HE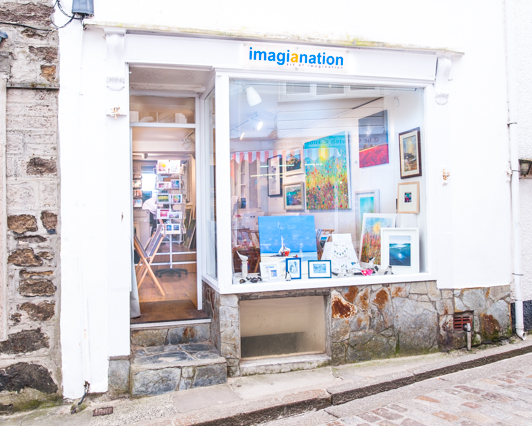 We came to St Ives in April 2009 and on 1st May opened a gallery bursting with colour and imagination, in many media and on many themes... starting out with pictures just leaning against the wall and cards on the floor.
Our artists have a lifetime of skill and experience behind them, which we marvel at. Many who have come to the gallery are self taught, very hard working & very naturally gifted; others very talented and top professionals.
We have represented all our artists for many years now with tons of enjoyment and much admiration and pride.
Our NAME is not mis-spelt! Imag-IAN-ation is Ian And Nicola ... and Art of imagination
---
Bath Gallery
5 Terrace Walk, BA1 1LN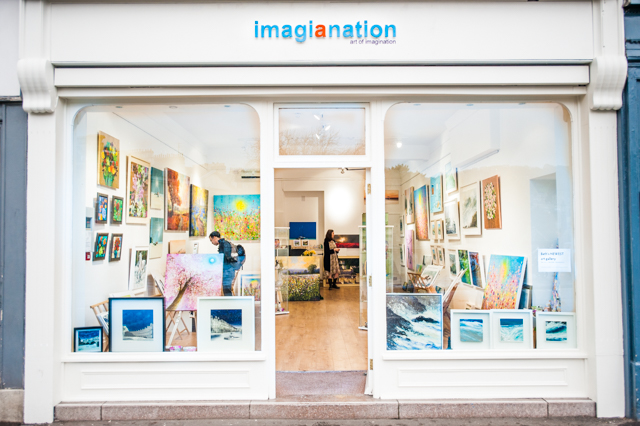 Our second gallery opened in March 2015 to great appreciation for being BEAUTIFUL and AFFORDABLE in a beautiful and expensive city!!
Nicola and Ian moved here to manage the new gallery, leaving St Ives in the very experienced hands of Gayl.
We show work from Cornwall to the Cotswolds, a great range but with one thing in common: beauty.
---
Nicola Murphy
Gallery Director
Nicola's English degree got her writing for "The Times" in her 20's. She left London to follow in the footsteps of her relatives, famed members of the Newlyn School, Harold and Dame Laura Knight. Living in Lamorna in Oakhilll Cottage next door to where they painted, she studied for a Fine Art degree at Falmouth Art College. A return to Oxford led her to the love of her life & the joy of family life and from there back to where she loves. Now in Bath she works with yet more talented artists offering special memories of not just St Ives but the whole south west of England for its many visitors – from all over the world.
Nicola on her art training:
" I have 4 years of formal training at Falmouth School of Art; it didn't give me talent so much as insight & years of magical fun, an understanding of conceptual art – and a much deeper love of art, illustration, colour and paint, a delight in the power of mind & imagination to create illusion & beauty – and to use just paint and brushes to do so."
Ian Maclean
Admin/Prints Director
With Cornish ancestry in Mevagissey and Port Isaac, Ian has always longed to live in Cornwall. His earliest loves were photography, guitar and painting. A physics degree and the computer industry gave him a living for many years but arts have now taken over again. His photographic skills, from the finest gallery prints to studio portraits, are available through our ImagianationPrints division. He has designed the shop management system, web site, online shop and is also very proud of our very fine boxes made for safe transport of originals all over the world. He can also fly planes and produce music but best of all is family life with Nicola!
Music, photography, astrology and more at www.iansongs.com
Gayl Ripley
ex-Gallery Manager, St Ives
After 13 years spent working in special needs education, Gayl followed her love of the Arts, leading to management roles at a number of places, including Edinburgh International Book Festival and Cornwall's own Minack Theatre.
Gayl's coming to St Ives is a wonderful love story...Back in 1989 her friend Tracey was a journalist who interviewed rock musicians. Tracey couldn't drive, so Gayl was her chauffeur to the gigs. At one such gig, the Red Dogs, Gayl met their lead singer Mickey. She and Mickey stayed in touch for a few years, but both ended up with other people. After a gap of 15 years they got back in touch via the Internet and met again upon Westminster Bridge. Within a few months she had left everything behind to make a new life here in St Ives with Mickey and they were married on 12/12/12 at 12 o'clock!
A photographer, calligrapher and very creative lady, Gayl says she absolutely loves working in the gallery with its every-changing displays and lovely customers.
This picture, taken by Ian, gives a clue as to her other occupation! With Mickey's encouragement, she taught herself to play penny whistles and violin. They spent six months gigging and busking their way around New Zealand. Try The Kettle & Wink on Thursday evenings or look out for them performing in the town as Mennum, lovely...
St Ives
What is it about St Ives that draws us? There's a magic in the fabric of our chosen home.
It's in the sun dancing on the water by day and in the moonlight sparkling like diamonds on it by night. It's that moment when you spot a shape in the water and realise it's a seal - or a dolphin! It's wandering the cobbled streets, discovering lovely little nooks and crannies, sometimes unearthing a hidden gem. It's in the cosy pubs on a winter's day or sitting al fresco at a cafe in the sunshine. It's sauntering along the harbour with your ice-cream.
It's jumping over the waves, surfing on the crest of them or taking a boat ride through them. It's escaping the crowds out past Man's Head on the coastal path. It's the sight of the fireworks over the harbour at New Year. It's in the air, that pure clean air that gives St Ives that 'light' that draws the artists' hearts. It's in the soul of the earth, the stones and trees that speaks to the spirit of the writers'. It's in the 'ilow an mor' that plucks the musicians' heartstrings.What is it for you?
People come to Cornwall, to buy art - and the top place in Cornwall for art is ... St Ives.
The Tate and Barbara Hepworth

Variety of Galleries

5 beaches for a lovely holiday, too!