Caroline Day
Browse Caroline's work available TODAY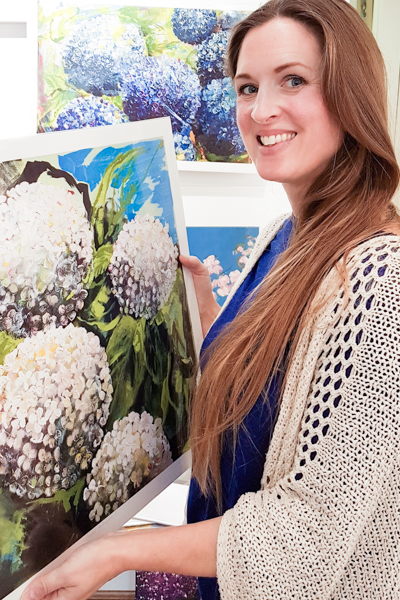 About Caroline
Caroline came to us highly recommended by a major gallery for her sumptuous paintings of nature - we were totally won over, as you will be!
Caroline gained a First Class BA Hons Degree from Camberwell College of Arts in 1994 and went on to gain a MA with Distinction from Cardiff University in 1996. Here is her artist statement:
"My compositions are rooted in a reverence for places and nature, during the ever changing seasons. Florals in particular allow me to engage with colour, light and structure in a wonderful way. Ephemeral in their nature, they give me the unique opportunity to play with the boundaries of time and movement.
"In addition to my love of florals, I also feel a profound emotional and artistic attachment to the Wiltshire landscape around my childhood home. I attempt to capture the essence of a flower or a landscape through intense observation, experimentation with scale, and nuanced use of line and colour. I approach the anatomy of an object, a flower in much the same way as I would a human form, emphasising its planes and contours."
We love the sculptural, 3D qualities in Caroline's 1 Metre square florals and the fabulous, generous application of paint. She has created a most distinctive, contemporary style between abstract and realism, all with a beautiful sense of colour and form. Caroline's paintings capture a beautiful energy which is both emotional and uplifting; some are the essence of gentleness, some strong and powerful in their boldness and composition. Each painting is genuinely unique! A stunning treasure to contemplate and enjoy.
In addition to painting for galleries, since 2016 Caroline is very proud to have worked in Partnership with English Heritage on an exclusive range of artwork for their gift shops and sites. Her work has been exhibited nationally and is in private collections worldwide.
We can only add that you will have to visit our gallery and see her marvellous original contemporary art for yourself!