Beautiful Art and Photography
from
Selected UK Artists
Imagianation has closed its beautiful gallery shop premises but we are alive and well
* Online *
LATEST
New in 2022 • Imagianation Giclée Edition
ALL her wonderful Cornwall watercolours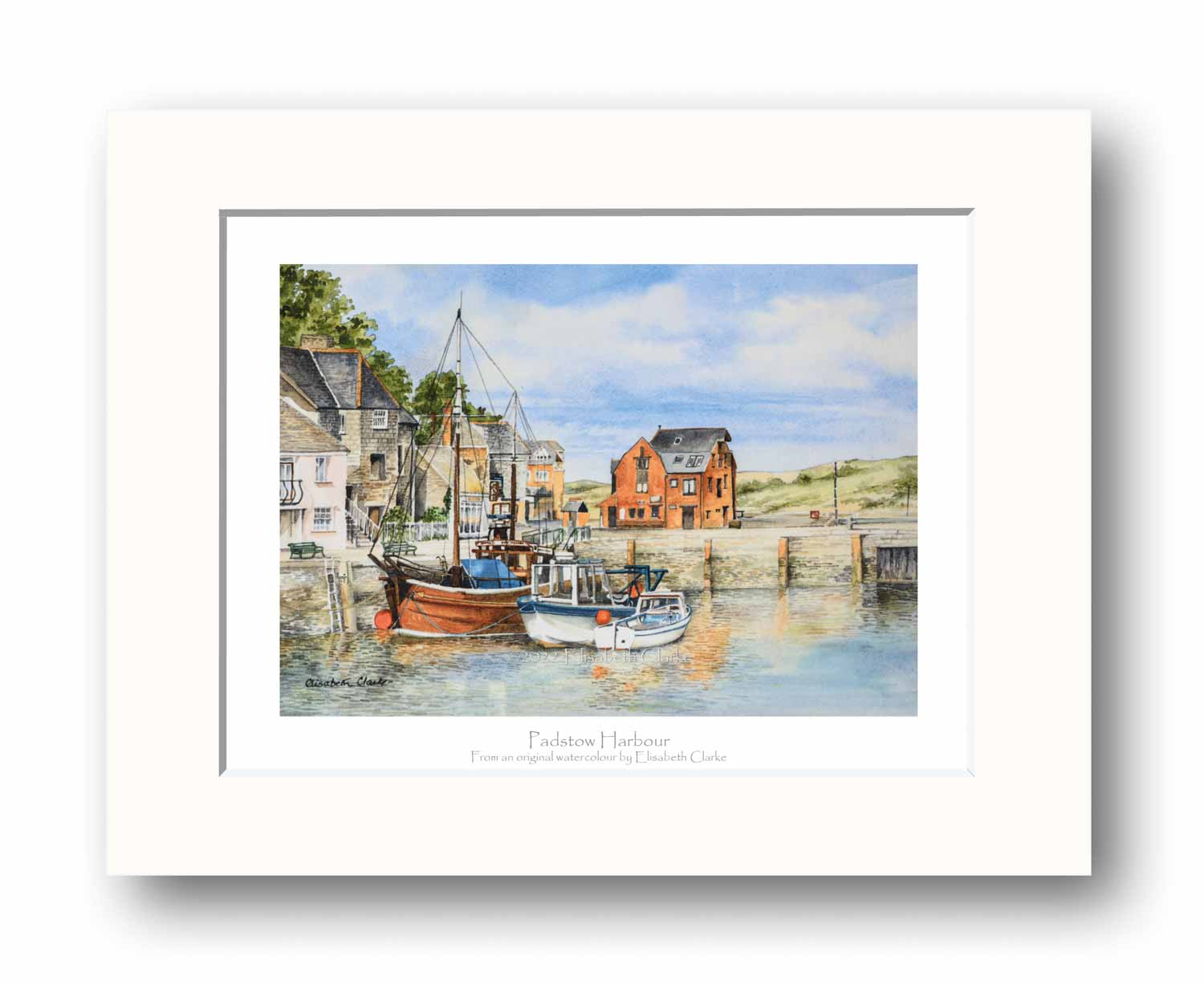 INTRODUCING
Imagianation WILDLIFE Editions
from talented new artist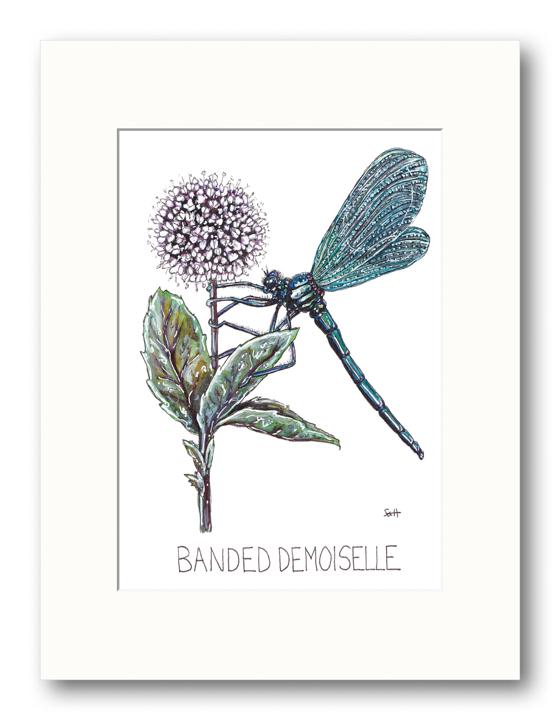 the amazing SEA on GLASS artists
A few remaining specials from Christmas 2022
You may have seen their charming work • made from glass washed up by the ocean on North Devon beaches • an special selection of new creations!
A small sample...
Other collections
* INCLUDING THE VERY LAST BOWLS BY THE WONDERFUL HANNE OSBIRK, WHO SO SADLY PASSED AWAY THIS YEAR - WHEN THEY ARE GONE, THEY ARE GONE *
Beautiful fine art prints for collectors
And the enduring favourite
* SERVICES FROM US *
via
Browse our director's years of talented work
Services now offered:
Portrait and Stage Photography • Giclée Fine Art Printing
Inspiring Video & Audio Production
• Nicola's Fun & Colourful INSTAGRAM - Click here
• Like us on Facebook? - Click here
imagianation • online • what to find
Collections are now divided into
CURRENT: Browse artists' newest work and new artists
GALLERY: Browse the wonderful artists shown in our
galleries over the years
We welcome enquiries about artists' current activities.
A HUGE THANK YOU!
to all the wonderful artists, staff and happy customers
who made the galleries such lovely places to be from 2009 to 2020
Nicola and Ian
31st October 2021
Now for happy memories ... Warmest thanks for all the wonderful
PREVIOUS SHOWS >>>
Scroll down to see them all
CHRISTMAS WITH
Jon Tremaine • Wildlife Artist
7th Dec 2019 • 12 - 5pm • Bath gallery
+ Sat & Sun 14/15th Dec
...ANNOUNCING...
after TWO YEARS' WAIT - his amazing new

LOBSTER !!
Brimming with sea and coastal life detail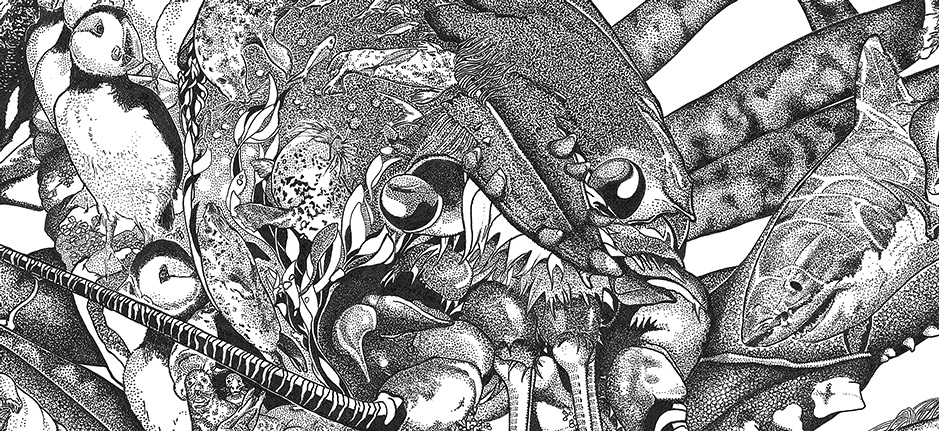 Talk to Jon and he'll gladly sign and dedicate a print for you
Click on the images for the full collection...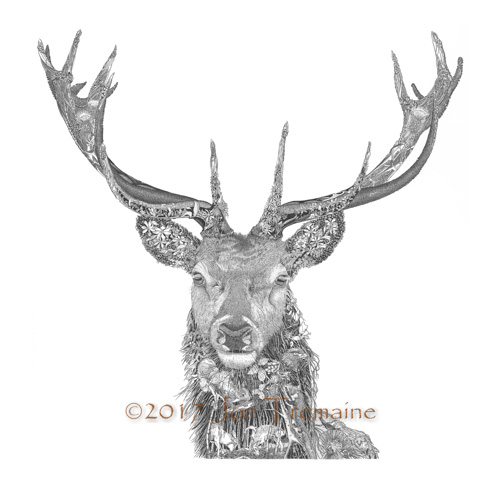 Jon is always happy to talk about his work and dedicate his work to your loved ones!
Click HERE for the full collection
the amazing SEA on GLASS artists!
A lovely day! • 18th August 2018
You may have seen their charming work • made from glass washed up by the ocean on North Devon beaches • an extensive and varied selection will be on show!
A small sample...
Beautiful and Dramatic Watercolours ...
Thanks to Barry for a great day and
for DEMONSTRATING his skills live
BARRY HULME
"Light and Landscape" • 11th August 2018
This Saturday • 12-5pm
Barry Hulme is an exceptional watercolour artist. SAA (Society of All Artists) Artist of the Year 2016; Best Professional for Landscape & Woodland Scenes 2018, Barry paints beautiful liquid light watercolours - we are thrilled to show a marvellous collection of his beautiful work this August.
Click on the pictures to see his collection with us.
CAROLINE DAY
"Garden Party" show
Caroline's "Garden Party" shows feature her glorious, sensuous paintings
of summer flowers as you have never seen them before
Click on these paintings for the full collection
---
* Yvonne Coomber *
Bath Summer Show 2018 • Summer Songs • 14th-28th July
Specially created work for imagianation • from the unique Yvonne
Fabulous show: new originals, prints and her acclaimed hand-finished canvas prints.
We are proud of our long and happy association with the lovely Yvonne Coomber, helping her build her huge following from our beautiful and accessible Bath location: both UK visitors and also lovers of her work from the across the world who visit our gallery.
Red dots tend to appear rapidly at our show days here in Bath - arrive early!
Here's a glimpse of part of the show – click on the picture to see all Yvonne's work in our gallery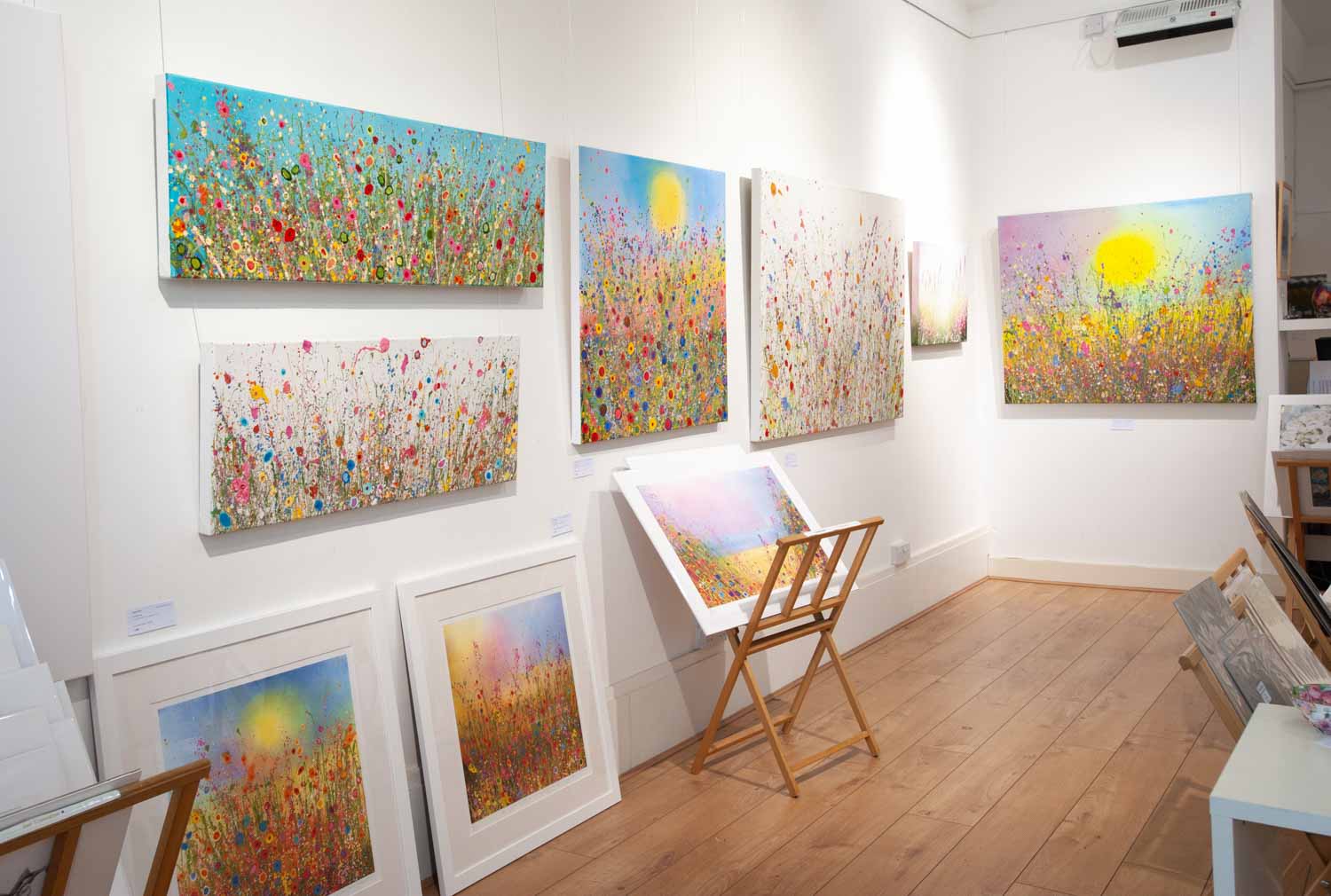 THANKS TO THE BATH BUNNS!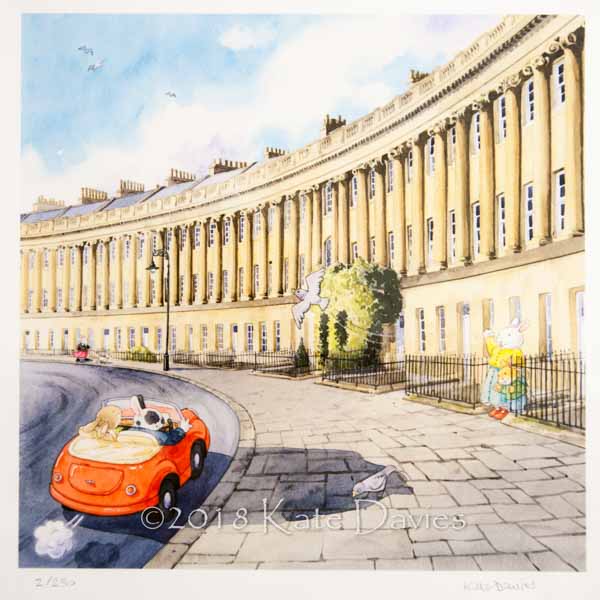 July Show
Kate Davies
& the
BATH BUNNS !!!
MEET THE ARTIST
on many days
for Kate's enchanting views of Bath
and beautiful scenes of rural life
---
* * * BLUEBELLS season * * *




click the picture for magical work from
Dick Smith

2018: CELEBRATING 9 years of imagianation!
On May 1st 2009 we opened our doors in St Ives and have been open nearly every day since then in St Ives ... and now in Bath.
TWO of our earliest and most magical artists from this time are joining in the celebration with special displays and SPECIAL PRICES for you.
Click to see beautiful work from brilliant Dick Smith

It would be a pleasure to welcome you to our much larger Bath gallery. As we have been letting people know, we closed the St Ives gallery this year to begin a new exciting phase in Bath.
ANNOUNCEMENT
Our lovely gallery in St Ives closed on Thursday 8th February 2018
We can't begin to thank everyone enough who brought paintings, bought
paintings, or brought themselves – to visit or to work in the gallery.
A magical time has ended so that we can concentrate our resources properly on our beautiful gallery in BATH. Most of our St Ives artists can be seen in Bath and you can certainly find their work on these pages.
Please keep in touch and visit us in Bath if you haven't yet!
THANK YOU TO THE ARTISTS
for great

Meet the Artist Days

during 2017
Wit wisdom charm!
Janet Jordan
Thurs 30th Nov
Join us to share Janet's lovely ETCHINGS • This Thursday • Bath

Click the images to view Janet's extensive collection at imagianation gallery
A great day with...
The inimitable

DOUG HINGE !

Tues 28 Nov
Life is a party! - Join us for one with Doug on Tuesday • Bath

YVONNE COOMBER
Her first Summer Show 2017 • Dancing with Colours • 8th-26th July
Yvonne at the peak of her powers
We are proud of our long and happy association with the lovely Yvonne Coomber, helping her build her huge following both in the UK and also by attracting lovers of her work from the countless visitors from across the UK and the world who visit both our galleries.
Red dots have appeared following a delightful 'Meet the Artist' day in Bath on Saturday 8th, at which Yvonne gave us a rare opportunity to enjoy her charm and wisdom in person. Dedications for anniversaries and special occasions on her work was the icing on the cake for some very happy buyers!
Here's a glimpse of the show – click on the pictures to see pieces remaining from the full show gallery
imag

ian

ation
FINE ART PRINTING • PHOTOGRAPHY • VIDEO


We do so much more than sell paintings...
LOWEST pricing for the desired level of print quality: museum, archival, value
50 years experience of photography and film
ART is about LOVE !
We buy art because we fall in love with it. At least enough to live with it in our home! Or to make it a gift...
Have fun with

Select from All Work

- it's like walking into our gallery; see all we have!
Click 'List As One Page' ... you never know what might catch your eye as you scroll down!
Option buttons select styles, sizes, themes... getting a bit large as we grow!


When you get to know the artists, use the

Artist's Collections

buttons on the left.
On a details page,

previous | next

(top right) lets you to browse without closing the page.




Wish List

or

Tell a Friend

is fun... Wedding or Christmas present lists! Or just a hint to someone...




GETTING AROUND: See the little identifier at the top of the page to retrace your 'clicks' - e.g. :

Home - Robert Casley - Pendants

- click on any word to go back to that page. It's called a 'breadcrumb' ... trail of breadcrumbs to lead you home!

Back to The Shop

returns you to the previous page.



Any time,

click

Home

to remove search selections. You could then view by Artist's Collections instead.
BROWSE and ENJOY! Just a couple of clicks and it's on its way to you!
And feel safe...
Completely satisfied? Just return the item in 'as new' condition within 7 days
for a full refund, using the packaging we used to send it to you.
WorldPay is the BIGGEST card payments system in Europe, used by Tesco, Sainsbury's, Waitrose ... and imagianation !!
We accept the international currencies accepted by WorldPay but we'll have to charge for any fees we incur.