Chris Hawkins
Browse Chris's work available TODAY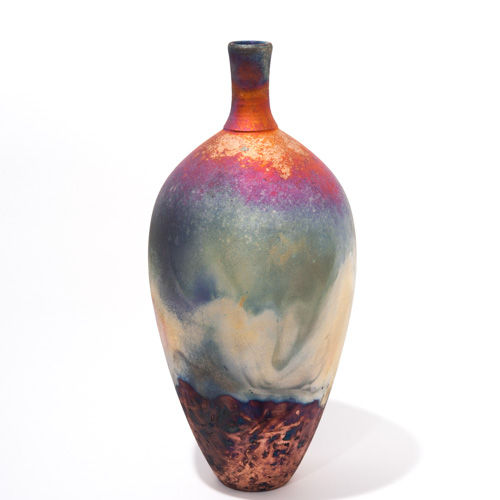 About Chris
Chris's Raku pots attract enormous interest and we usually stock a wide range of his unmistakeable work. We and our customers marvel at how Chris can produce such a glorious product for the low prices he is able to charge – truly 'art for all' – and we feel grateful to be able to offer it to you.
Care
The pots are art and not suitable for practical use as a container for food or plants. To clean them, wash gently under running water
Artist's Statement
My work is partly thrown on the wheel and trimmed when dry to refine the form; I rely on the copper matt technique to loosen the forms with the rich iridescent colours, patterns and sheen achieved by pushing this process to its limits. The unpredictability of it keeps my work exciting and each piece is very different to the last.
Technique: After being coated with a copper frit mixture, my Raku pots are rapidly fired until they reach 1000°C. They are then taken from the kiln with tongs glowing red hot and placed on a bed of wood shavings and sawdust: these instantly combust and the flames that lick around each pot form the patterns that you see on the finished piece. The pot is then covered with a container that starves the pot of oxygen producing a reduction atmosphere that causes the dry glaze and the clay to react. This process of reduction and oxidisation creates the rich iridescent colours found on my pots.
History: I completed a course at Plymouth Art & Design after studying ceramics and jewellery in the early 1970s. After training by Hugh West as a production thrower I went on to set up my own workshop in 1980 producing stoneware sold in galleries throughout the UK. From 1978-2000 I also worked as a ceramics technician and part-time lecturer at Plymouth College of Art & Design. In 1996 I acquired my present workshops in an idyllic location on the River Tamar and have spent the last 12 years concentrating on Raku and perfecting the copper matt technique.