Dick Smith
• Browse Dick's work available
TODAY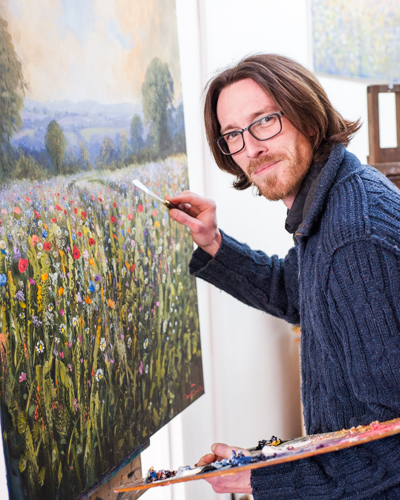 About Dick
Dick Smith, born 1981, has been painting all his life and has evolved unique styles and subjects.
Dick lived in St Ives when we first met him as a very accomplished actor appearing at The Minack theatre near Lands End, and on The Island, the grassy part of St Ives that is almost completely surrounded by the sea. Now he works in Devon as a full time artist painting wonderful landscapes, meadows and bluebell woods. Dick works in oils and acrylics and his paintings are distinctive in their glorious colour, thick textures, impressionism and beautiful tiny detail. He loves to explore the limits of what paint can convey and often adds gold leaf, copper leaf and sparkle to bring out the seasons in their glory.
He has chosen Imagianation for his paintings - so now his work is in collections throughout the UK and also in countries from New Zealand to Taiwan to Canada. Collect Dick Smith originals while they are still affordable!