Georgia Cox
Browse Georgia's work available TODAY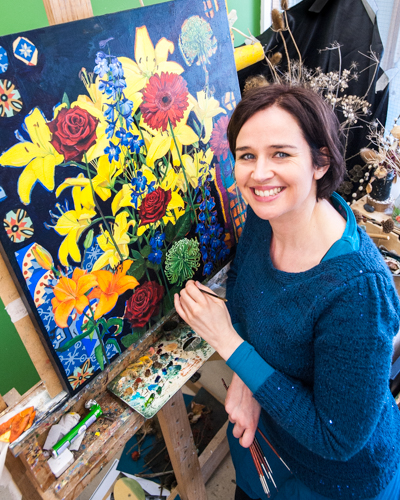 About Georgia
Georgia lives and works in Bath creating her meticulously beautiful images...
Georgia trained at Falmouth School of Art and her talent was recognised early in her career by the National Portrait Gallery. Georgia won a coveted opportunity to show her self-portrait in the Gallery. Georgia's work has been chosen for the Royal West of England Academy and is in many collections nationally.
Georgia loves the translucence of flowers. Her talent shows in her ability to capture that translucence in oils, creating beautiful images, wonderful compositions and bouquets of flowers, radiant and glowing in colour. Each flower is minutely observed, each petal painted with supreme skill. The intricacy of her work is stunning.
Georgia's focus is often on the contrast of natural forms and pattern, arranging tulips against tiles, gerbas against intricate kimonos creating compositions with the richness and detail of tapestries and ancient masterpieces.
With gold and copper leaf giving her work the glow associated with icons, Georgia's paintings really are treasures!