Glyn Davies
Browse Glyn's work available TODAY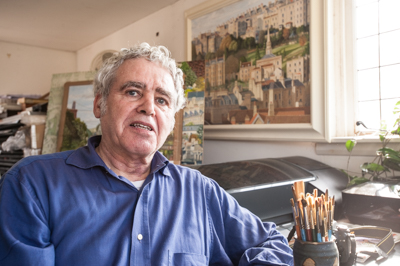 About Glyn
Glyn knows and loves Bath as a long term resident and as an architect making his own mark on the beautiful city. It is hardly surprising that his paintings show detailed accuracy as well as artistic vision.
Glyn has won many prizes for his stunning watercolours. "Terrace Walk" was a winner last year at the Bath Society of Artist's major show at Victoria Gallery and "The Empire Hotel" won in 2009.
Glyn's skilful use of paint and ability to capture iconic views of Bath impresses everyone. We are also showing his rich luminous oils, notably Belgrave Terrace.
Glyn's architect eye captures the lines and perspective of Bath's lovely buildings and his artistic mind work creatively with colour temperature and composition. "Paragon from North Road" is in cool shades of blue while "Paragon & Guinea Lane" is painted in soft warm tones. Using the foreshortening effect of a telephoto lens, Glyn intensifies the eyecathcing qualities of the composition.
We are really proud to have Glyn's work here at Imagianation on Terrace Walk. We have a wide selection of prints together with the terrific original pieces.
Its a rare chance to take home a prize winning work of art!