Hannah Casey
• Click photo to browse Hannah's work available
TODAY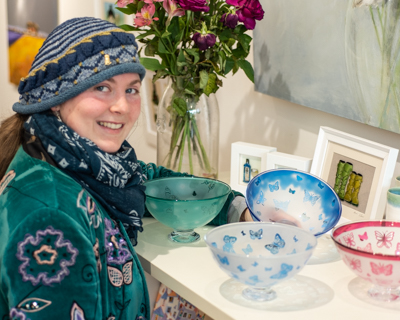 About Hannah
Beautiful glass designer bowls, achieved by an original process using sandblasting to reveal the images in the surface of the glass.
Hannah is a local to Bath but also works with her father's glass works in Cornwall to bring these beautiful glowing bowl designs to you.
The kind of work you have to see to appreciate fully its feeling! Do go ahead and order online - we pack beautifully in mdf cases and offer a full refund if you are not absolutely delighted, which you will be! We certainly were when she brought them to show us.
Hannah grew up in the magical land of Sark which may have helped give her a lovely gentle and engaging personality. You might be able to catch her spending time helping in the gallery!