Hanne Osbirk
Browse Hanne's work still available TODAY
About Hanne
SAD NEWS. Hanne passed away in 2022, suddenly but peacefully. Hanne and her unique work are sorely missed.
Our current stock are the last of her bowls that we know of. We have changed her write up to the past tense, sadly.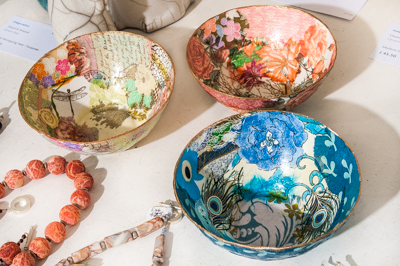 Hanne was one of the undiscovered secret pleasures of this life! No-one fails to be attracted by the charm and delicacy of her beautiful hand-made decoupage bowls.
Hanne used a variety of materials, including rice paper and silk paint. Each one is a labour of love and attention to detail. Her work is unique and people loved to give them as presents, keep them at home, or make a collection!
Hanne lived and worked in Odense, Denmark. She arrived in St Ives one summer and showed us her work, and we simply had to break our guidelines of taking only local-based work; we started offering her bowls right away. She also supplied the Hans Christian Andersen Museum, so we were in good company.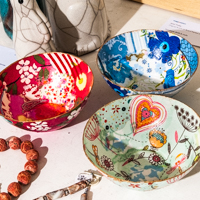 Every bowl is unique, and we have photographed our stock from several angles, so if you are far away, you can order with confidence.
Hanne was a very close friend and often visited us in Britain with her daughter and grand-daughter. She used to send a lovely box of new bowls regularly, so we usually had a nice variety in stock. She made seasonal variations in design as well as lovely new themes that used different colours and design ideas. We are so sorry not to be seeing her and her lovely work again. Lots of love, Hanne!