Hanne Osbirk
Browse Hanne's work available TODAY
About Hanne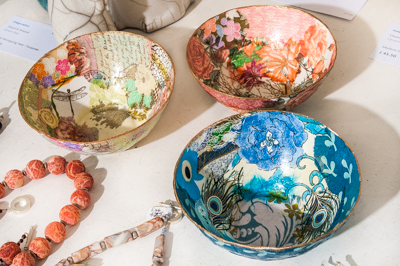 Hanne is one of the undiscovered secret pleasures of this life! No-one fails to be attracted by the charm and delicacy of her beautiful hand-made decoupage bowls.
Hanne uses a variety of materials, including rice paper and silk paint. Each one is a labour of love and attention to detail. Her work is unique and people love to give them as presents, keep them at home or make a collection!
Hanne lives and works in Odense, Denmark. She arrived in St Ives one summer and showed us her work, and we simply had to break our guidelines of taking only Cornish-based work to start offering her bowls right away. She also supplies her work to the Hans Christian Andersen Museum, so we are in good company.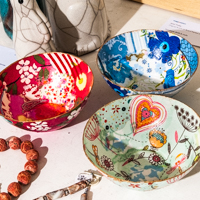 Every bowl is unique, so we can only invite you to keep in touch and we can always photograph what we have in stock if you want to order from afar, for gifts or to add to your collection.
Hanne is a good friend now and often visits St Ives with her daughter and grand-daughter. She sends a lovely box of new bowls regularly so we usually have a nice variety in stock. And she often makes seasonal variations in design as well as lovely new themes that use different colours and design ideas.