Jo Hargreaves
Browse Jo's work available TODAY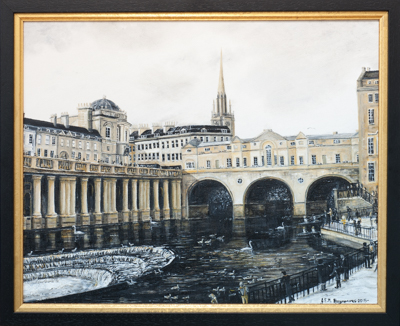 About Jo
Striking scenes of Bath from a lovely talented local artist.
Jo says:
I was born in Bath and stayed close to the city, attending university here. After spending ten years painting abstraction, my journey brought me full circle, returning to a more illustrative approach. I was privileged in 2008 to be commissioned to paint ten paintings, to brighten up, the children's round-about in Bath's Royal Victoria Park. Here I began painting historical sites of Bath, such as Prior Park and The Theatre Royal. This set in motion my growing visual diary, of architecture and society, past and present. In 2013 I was asked to paint a montage of the present day children's play area, incorporating the round-about, bandstand, picnic groups and hot air balloons.
My latest series of work is focused on the similarities and changes of Baths social influences, fashions, transport and architecture, throughout the decades. The views and street scenes are focused towards the old Roman North, South, West and East gates, where the desire for the natural hot springs of Bath first attracted the larger social groups.