Jos Haigh
Browse Jos's work available TODAY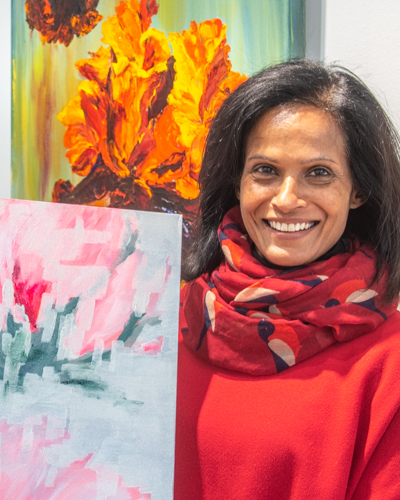 About Jos
Jos's rich and sumptuously coloured floral images won our hearts.
Jos brings energy and beauty to our trademark abstract floral paintings. Jos' images' are a cascade of colour, fun, feeling and imagination. Big, Bright and Beautiful.
We love her contemporary style abstracting and redefining such a soft image as a flower. She adds linear brushstrokes or grid-like blocks, dissolving the concrete image with silver or gold patterns.
Each picture is a shimmering magical painting full of feeling and life! An irresistible glowing statement picture for your wall.
Jos says, "I have not had any formal art school training but I have always sketched, coloured, painted ever since I can remember. I'm all about flowers. Blazing colours of big beautiful blooms that are both dreamy and luscious. I like working in acrylics because it allows me to use strong colours with texture to add depth and vitality to my art"
It's a great pleasure to bring Jos's gorgeous work to our gallery for your enjoyment!