John Horsewell
About John
•
WORK AVAILABLE TODAY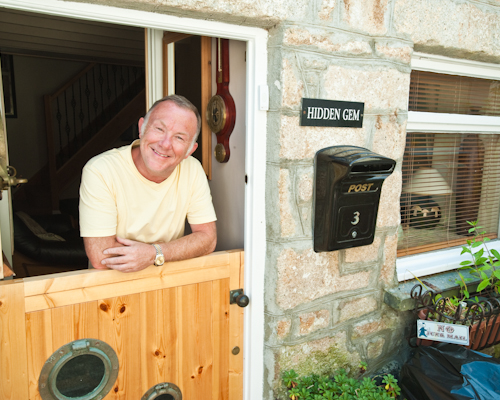 John's beautiful paintings leap off the wall with their clear crisp compositions and glowing colours.
We love his precise detail surrounded by space. This gives the eye something to focus on yet the overall feeling is one of peace from the expanses of gorgeous and gentle colours.
John's connection with St Ives runs deeply.
His mother was an East End evacuee, coming to St Ives at the age of 14. She went to school here and fell in love with the town. Although she married in London, the pull of the place meant her children spent every summer here, "knowing every cave, submerged mineshaft, quarry and hideout". John has seen the town change from its pre-hippy days to the tourist haven it has now become.
John was born in London in 1952. He started painting at school where he experimented with all forms of painting. Although he became proficient in many media, including pastel and water colour, he soon realised that acrylics were ideal for his style and gave the fullest expression of his use of colour and light. He started with Sunday mornings on Bayswater Road, progressing to Harrods. He has gone from strength to strength and his paintings are now in collections in the United States, Japan and Great Britain.
His father and grandfather were both professional painters, yet John has surpassed their achievements. His experience shows in the precision and professionalism of his work.
Close inspection of his work shows remarkable brush control, creating fine detail with a minimum of strokes. This ability to paint so accurately, and with the benefit of nearly 40 years experience, allows John to keep his work more affordable than those who spend prolonged periods on each piece. John sets our prices; there are no additional fees from agents nor publishers. We see on a daily basis (by comments and sales) just how admired his work is.
St Ives remains John's haven after sixty years. Imagianation is honoured to be the only gallery to show his work in the Southwest.
Work by John Horsewell is in great demand, such is the appeal of his style. Whether boats or palette knife landscapes, you will have something very special in your room to take you beyond its four walls.
SADLY, JOHN has SEMI-RETIRED and is no longer able to supply us with his much-loved canvases. Please contact us if you would like more information about the current availability of John's work.