Kate Davies
Browse Kate's work available TODAY
About Kate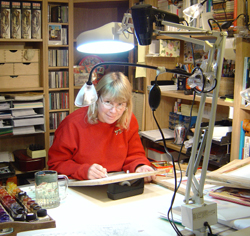 We love Kate's scenes of gorgeous Somerset places, with added charm of furry creatures! This is what she says about herself:
"I have always enjoyed painting and drawing. I studied visual communication and Graphic Design at Bath Academy of Art, and have since managed to earn a crust, sometimes with butter on, from my illustrations.
"My work is light hearted, bright, and colourful on the whole. I have worked mainly in Children's Books - story books, board books, novelty, atlas, Bible stories, art and science, educational.... I have also illustrated for jigsaw puzzles and games, magazine covers, short stories, cartoon features - you get the picture - so to speak!
"I am a traditional artist, that is I haven't mastered the art of digitally generated artwork - but I do have a scanner (I am not a complete troglodyte). I work in watercolours, gouache, inks and some pencil.
"All images are copyright. Please do not use without permission.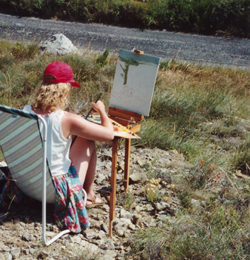 "Alongside my illustrating and watercolour painting, I sometimes find time to paint illustrative works of my own. They don't really have a story, but one could create a little tale about most of them.
"These started with the Christmas cards that I was painting of our village. I produced one a year and they'd feature part of the village but with 'woodland' characters peopling them - usually mice. It went on from there ; I painted scenes at different times of the year, and then started venturing further afield to exotic places such as Castle Combe, Lacock, and Bath, and even the characters developed and now feature foxes, badgers, rabbits etc!"