Mike Boyer
Browse Mike's work available TODAY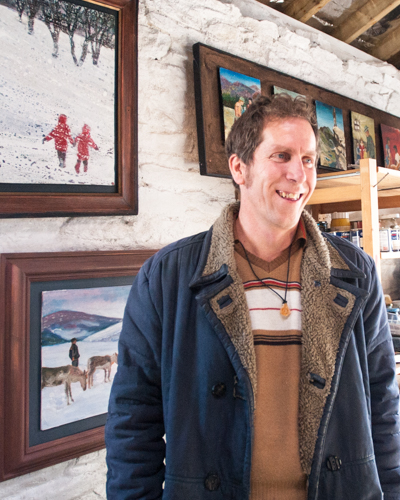 About Mike
Mike lives and works in Totnes creating mesmerising images of people and landscapes at moments that take on a great importance in his sensitive hands and perceptive imagination.
As a child Mike spent much time creating mini worlds, losing himself in the woods and on the beaches in North Devon. Later on he went to Dartington College of Arts for 2 years where he says how he learnt how to question everything and to concentrate on the content and purpose of the art as his main driving force.
After a spell in London for 11 years enjoying city experiences he moved back to Devon, where his love of the relationship with nature and the fascination with the human condition started to shape his art anew. He now works in any medium which at the time and moment conveys the feeling and truth of what he wants to communicate: painting, sculpture, constructs, photography, printing, drawing, music and anything in between!
Mike has held many solo exhibitions, where his full range can be enjoyed. Do visit his wonderful studio where you can appreciate the love of life and human concerns that Mike so evidently feels - and enjoys expressing through such an arresting set of images.
Mike's pictures convey the emotions of special moments of human experience. We look forward to offering a range of his prints and originals as his name and fame grow.