Ron Adams
Browse Ron's work available TODAY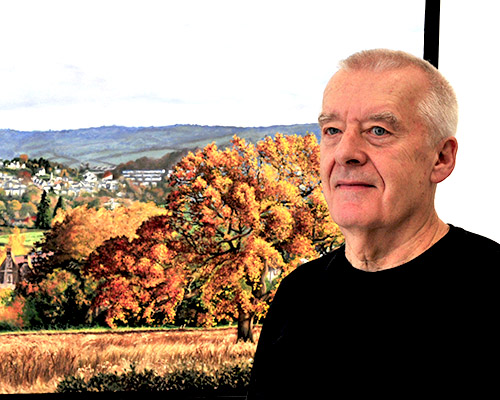 About Ron
This is the beautiful view from Ron's studio towards Batheaston ... we are proud to have the painting hanging in our gallery - until someone is lucky enough to take it away...
For many years Ron lived and worked near Athens in an old fishing village. Whilst there he sold many paintings that focused on Greek urban life. He has original works in private collections the USA, Switzerland, the UK and Iran.
More recently he has set up a studio in Bathampton and has brought his talents to our community here in Bath. After obtaining an M.Phil in Art Education from Bath University, his skills and style were developed over years as an art teacher and lecturer at schools and art colleges in the south of England.
To add to his experience and background, for many years Ron was visual art and exhibition officer for a local authority, and curator for the Barclay Russell children's art archive.
Not tied to any particular style, Ron enjoys creating the feeling he wants through different approaches to painting.
Look out for a varied and interesting collection displayed here at Imagianation!