Sally Bassett
Browse Sally's work available TODAY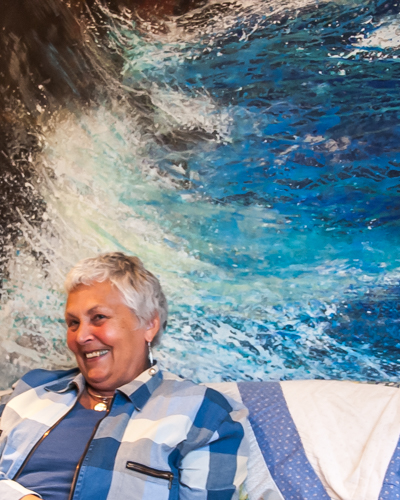 About Sally
Sally spends her time between her enchanting house in Mousehole and the rich countryside of Hertfordshire. Her painting reflects her love of the world around her - meditative orchards, wild seascapes; tranquil boats.
"I think my most successful pieces evolve when I have been able to distill the power, colour, atmosphere and essence of a place or subject."
Sally grew up a natural artist, as a child thinking that everyone could paint or draw! Perhaps a happy start at a Steiner school helped her sense of freedom and feeling that life is fun.
Combining a teaching career and family life, Sally also found the superwoman energy to complete a fine art degree. Now with 20 years dedicated to her artwork, the paintings are gorgeous!
We love her feeling for what she is painting; whether its wild waves at Kynance Cove, catching the waters' splash, hiss, spume with textured and experimental paintwork – or evoking the peace of lush meadows and hedgerows; buttercups, cow parsley, pink campion – all in rich colours, bold brushwork and delicate droplets.
Sally describes her feelings as "Celebrating Life". Her energetic lifestyle includes skiing in the mountains with her family and kayaking down here in Cornwall. She knows well, and is inspired by, the coastal walks that we are so lucky to have.
We are very happy to bring Sally's inspired work to St Ives. Shown for many years at Coverack on the Lizard; and in Cambridge, this very talented artist's work is in collections all over the UK.