Sea on Glass
Browse pieces from Sea on Glass available TODAY
About Sea on Glass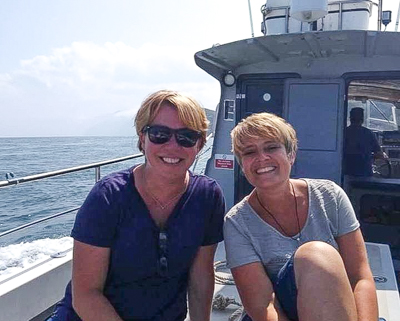 Here's 'Sea on Glass' - on sea!
Lovely Anna and Lesley are 'Sea on Glass' - an artist partnership in North Devon where they comb the beaches for fragments of glass worn smooth by the ocean, turning them into the most unexpected and charming images! Too many styles to list - but some of the most popular are ice creams, insects, small birds, hares, flowers .. all sorts, you get the idea!
Here's what they have told us about themselves:
We have been working together for almost 10 years now, having first met when our children were young on the beach collecting glass. As well as appearing on BBC Spotlight in a feature on our art, we have exhibited most recently in the following exhibitions:
Skull Appreciation Society -Box Studios, Shoreditch 2015
Shortlisted for the Royal West of England Academy annual exhibition, Bristol 2015
BAT Foundation exhibition "Icons in the Frame" Gallery Elena Shchukina, Mayfair 2016
BAT Foundation exhibition "Icons in the Frame" Olympia, 2016
Since 2015 we have been involved in a 5 year project with the BAT Foundation to raise awareness of Alzheimer's disease through visual arts. Bounce Alzheimer's Therapy is a groundbreaking charity which is focused on exploring how table tennis can be used as a therapy to delay the progression of the disease. We will be showing a piece at The Bethlem Gallery of the Mind in Beckenham from March-June 2017.
We are always happy to accept commissions!
Some samples - created from glass washed up by the sea ...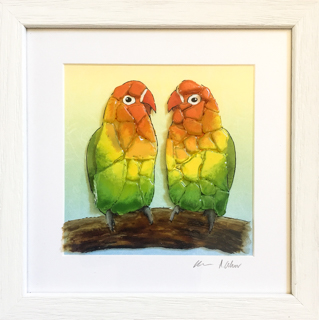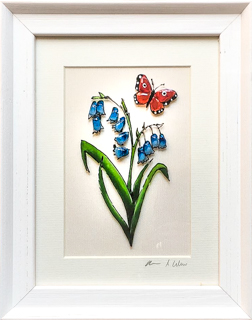 You simply have to see their work for yourself to enjoy the colour, charm, imagination and fun!