Yvonne Coomber
Browse Yvonne's work available TODAY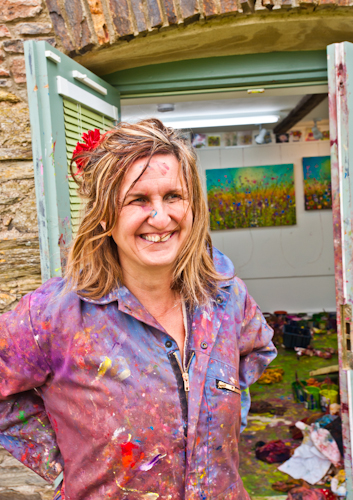 About Yvonne
Celebrated Artist Yvonne Coomber is known throughout the UK. She has had international shows in New York and California. We have shipped her work all round the world: Texas to Dubai, Canada to Australia, France to Malaysia.
We are proud of our 8 year association with Yvonne, since she first chose our St Ives gallery in 2009. Since that day, when the painting Yvonne carried up the cobbled street was spotted and bought that afternoon, crowds have flocked to see and buy her spectacular originals and prints.
Yvonne was the featured artist on BBC Countryfile's episode 'Meadows' in August 2016.
62,000 likes on her Facebook page … she's as much loved for her kindness and loving nature as for her joyful work!
Here is what Yvonne says about her work:
"My paintings are inspired by the gentle hills and the singing rainbows of tumbling, spilling, flowers outside my studio which is nestled deeply in the folds of Devon.

"Painting for me is a love affair: I am profoundly passionate about it, it grips my heart tightly and I yearn for it when I am away. I am both a dreamer and a believer. I work very intuitively and instinctively, creating a space in which I allow the image to evolve and unravel. My practice demands that I am courageous and openhearted and it always involves risk. It is also an eternal search for truth. I feel things with a burning intensity and my canvas provides a container for these huge emotions.

"Seduced by colour I perceive the world accordingly. My palette is blazing and lyrical by turns, with hot and vibrant hues inspired by the many journeys I have made in my life. I almost always work outside so howling gales and gentle breezes have as much influence on my painting as lacy ice and scorching sunshine. The weather, in a very immediate way, directs the end result of the image.

"My paintings are also concerned with something that is often overlooked and forgotten, a sacred space within ourselves and in the land. The images I create embrace wildness, innocence and a deep connection to the earth. My most recent work is sourced from close examination of Dartmoor and the exploding kaleidoscopic hedgerows on the edges of ancient paths, walkways and lanes in the surrounding area.

"I am fascinated by chaos and order existing simultaneously and the easy harmony that occurs in the natural world between these two forces. Also the relationship between fragility and strength. My canvas becomes a visual response to these elemental energies and polarities discovered within the environment and myself.

My work is a celebration of the joy and ultimate purity of the human spirit and embraces all that is magical: the unseen is as relevant as the seen in the finished piece."