Tamsyn Salt
Browse Tamsyn's work available TODAY
About Tamsyn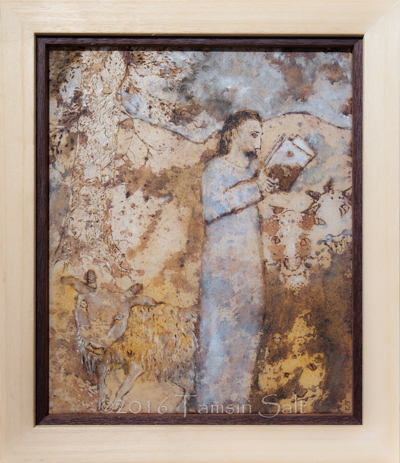 Tamsyn's originality and talent has given her a devoted group of collector's in Bath. This is the first time her work has been shown in some years. A previous show in Bath at "Out of the Blue" gallery was a sell-out.
Tamsyn's dreamlike images look like they are drawn from the rock, cave paintings or an ancient manuscript Her drawing and imaginative skills are second to none having been honed at the Slade School of Art. Close study of the texture reveals layers of imagery and a sense of the marvellous and mystical.
Her process involves applying natural plant and metal oxide pigments to fine calico. Tamsyn's imagination sees images om the resultant textures and patterning and brings them to life as the painting evolves...
January 2017: Tamsyn has released a set of beautifully detailed work at prices for all to be able to enjoy: do visit our display in the next few weeks.