Tamsyn Salt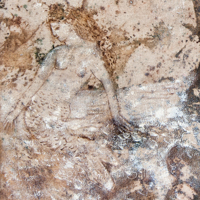 Tamsyn's unique images look like they are drawn from the rock, cave paintings or an ancient manuscript. Her drawing and imaginative skills are second to none, having been honed at the Slade School of Art. Close study of the texture reveals layers of imagery and a sense of the marvellous and mystical. Click on the large image of her pieces and then the fine detail image...
December 2019: Tamsyn has decided to withdraw for a spell of new creativity. Please enjoy reviewing her remarkable work below but these are no longer available to order.
Watch this space for further news!
Lamb of GodŁask

Framed. 32 x 25 cm • Pigments on Calico • Bath

---

Angel ProtectingŁask

Framed 27.5 x 23 cm • Pigments on Calico • Bath

---

JesusŁask

Framed 25 x 20 cm • Pigments on Calico • Bath

---

Framed 24 x 29 cm • Pigments on Calico • Bath

---

Soul JourneyŁask

31 x 26 cm • Pigments on Calico • Bath

---

Holy TreeŁask

25 x 20 cm • Pigments on Calico • Bath

---

Isreal llŁask

Framed 22 x 27 cm • Pigments on Calico • Bath

---

RFID chipŁask

Framed 31.5 x 26.5 cm • Pigments on Calico • Bath

---

Rag DogŁask

Framed 25 x 20 cm • Pigments on Calico • Bath

---

32 x 25 cm • Pigments on Calico • Bath

---

Framed 31.5 x 26.5 cm • Pigments on Calico • Bath

---

FlowersŁask

Framed 30 x 25 cm • Pigments on Calico • Bath

---

HomesteadŁask

Framed 25 x 24 cm • Pigments on Calico • Bath

---

Undergrowth llŁask

Framed 23.8 x 23 cm • Pigments on Calico • Bath

---

Summer AfternoonŁask

24 x 28 cm • Pigments on Calico • Bath

---

Jewish HousesŁask

27 x 21.5 cm • Pigments on Calico • Bath

---

EgyptŁask

22 x 25 cm • Pigments on Calico • Bath

---

Framed 21 x 23 cm • Pigments on Calico • Bath