Robert Kann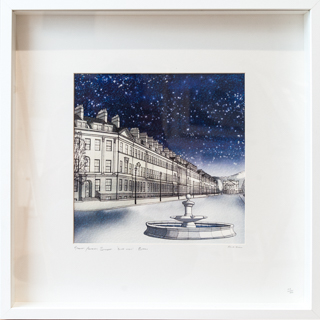 Robert's architect's eye and love of visual effect brings us these iconic pictures of Bath...
They seem to be just what Bath is about, like they have been here forever, and a perfect reminder of your experience in this extraordinary city.
Elegantly framed or mounted, his titles are listed below.
Those with no image are similar to the image adjacent, offered at a different size or print number. PLEASE CALL if you wish to discuss options.
23 x 23 cm • Print on Paper • Mounted • Bath

£ask

15 x 20 cm • Print on Paper • Mounted • Bath

£ask

Battersea Tower Station London

15 x 20 cm • Print on Paper • Mounted • Bath

£ask

25 x 25 cm • Print on Paper • Mounted • Bath

£ask

15 x 20 cm • Print on Paper • Mounted • Bath

£ask

Great Pulteney Street by night 19/100

25 x 25 cm • Print on Paper • Mounted • Bath

£ask

Great Pultney Bridge street purple night 11/100

25 x 25 cm • Print on Paper • Mounted • Bath

£ask

21 x 30 cm • Print on Paper • Mounted • Bath

£ask

15 x 20 cm • Print on Paper • Mounted • Bath

£ask

15 x 20 cm • Print on Paper • Mounted • Bath

£ask

Pulteney Bridge • By Night Bath

15 x 20 cm • Print on Paper • Mounted • Bath

£ask

Pultney Bridge • by night • 54/100

25 x 25 cm • Print on Paper • Mounted • Bath

£ask

Radcliffe Camera By night Oxford 23/100

25 x 25 cm • Print on Paper • Mounted • Bath

£ask

15 x 20 cm • Print on Paper • Mounted • Bath

£ask

Roman Baths Aqua sulis colour 02/200

25 x 25 cm • Print on Paper • Mounted • Bath

£ask

25 x 25 cm • Print on Paper • Mounted • Bath

£ask

25 x 25 cm • Print on Paper • Mounted • Bath

£ask

Royal Crescent • Gold Sky 69/200

25 x 25 cm • Print on Paper • Mounted • Bath

£ask