Jasper Rose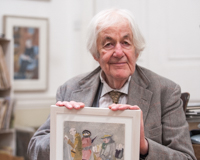 Jasper Rose is a much loved and revered artist, historian and University Professor of Art history. Welcoming us to Bath and his wonderful company, he has allowed us to share his "daily paintings", far too modest to exhibit his work himself.
His people paintings are enchanting and entertaining oil sketches - no-one you know but people you have seen everywhere spotted on his daily walks around Bath.
We have now added a collection of plein air paintings, a few still life, & interiors by kind courtesy of Jasper's wife, the artist Jean Rose. How Jasper captures changing light, subtleties of colour, variations of green shows such a love and flair for landscape art.
If you would like to see Jasper's paintings displayed beautifully as a viewing-only gallery, please click on 'More about Jasper' and follow the collection links.
In addition, do follow the links for full biography and a "fandago" of marvellous stories and information about such a much loved mentor on the Santa Cruz, University of California, complied with much affection and dedication by former student Jack Daley.
Do contact us to discuss your interest in his work. See also Inigo Rose.